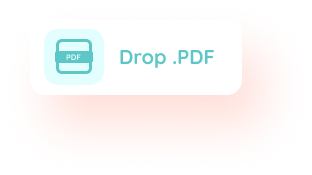 PDF to Text
(Convert PDF to Text)

Drag & Drop files here to upload
Drop It Like It's Hot
How to use the PDF to text converter?
To extract text from PDF, you will have to:
Browse or Drop the file.
Submit the file.
Copy or save the text.
Click on "start over" for another conversion.
What is PDF to text converter?
This converter is an OCR online tool that extracts text from PDF files. The pdf to text converter is used when you want to convert PDF file into text form so that you can edit and copy it.
The OCR.best's pdf to text converter is known for its accuracy and intactness. The converted files are of high quality.
Features:
A sign of a good tool is that it has useful and reliable features. You will find our pdf to text converter true to this definition.
The main highlights of PDF to text converter:
Easy conversion
Who does not love some hassle-free experience? Our tool ensures that you convert your PDF files without having to face any problems. It does not require any registration which makes it a perfect refuge in a time of hurry.
Copy/Download
Since the file is converted to text form, it will have to be copied. You can copy text from pdf with a single click. Moreover, the text can be downloaded as a text file or doc file.
Fast access:
Another feature worth mentioning is that you will not have to download any special software or application to use this tool. It is available on any device as long as you have a steady internet connection.
Multiple input options:
The user can upload any file from any part of the world. The tool allows you to upload from device storage, dropbox, and cloud. This is convenient in so many ways.
You don't have to transfer files to a special device, you won't need to store the file in a special folder which means no device restriction and no useless storage occupation.
High quality:
The OCR.best makes no compromise on the quality of your document. You will get the same high quality as your uploaded file.
Since the file is converted into text, it will not be an exaggeration if we say that the tool enhances the quality of scanned and distorted pictures.
Secure and safe:
If you have any concerns about the privacy of your file, then don't worry. Your file is in safe hands (we mean software 😄). No one has access to your file and no one can read it.
Why do you need PDF to text converter?
There are multiple reasons to convert pdf to text. The most common reason is that you can copy-paste the text after extraction from the pdf.
Another reason is that you can edit the pdf text. It can be because you may want to redact certain parts of the text.
The OCR.best's pdf to text converter can extract text from scanned images, pictures, and screenshots. The only condition is that the file must be in PDF format.
Feedback
Heading
Notification